Guys
LWs often get short shrift from HW collectors, for some sad reason. Many of the LW teams in my collection are more valuable to me (emotional as well as financially) then their HW bretheren.
Pride of place in my collection goes to the NASL lightweights. I have 12 of these, with 5 left to collect. I thought I'd showcase them here, for no better reason than I felt like it...
Here goes, first with Ref 542 Chicago Sting, which is one of my favourites:
Next, 543 NY Cosmos. The reality of the team doesn't look quite like the picture in the catalogue, but that ain't so unusual really, is it...
Next, Tampa Bay Rowdies, which isn't very different from the HW version from a couple of years earlier...
My Edmonton Drillers, Ref 548, sits in a Jokari Box set. Here's the team...
Here's Montreal Manic, Ref 549. Upton acknowledges that the catalogue picture is wrong (it shows the team in white shorts)...
I painted my own version of this using a 2K4 figure. It was surprisingly difficult getting those upsloping blue lines on the shirt to look right
The "most wanted" for many is Ref 550, Fort Lauderdale. Here's mine...I have to admit I find the black & white base combo a bit of a let down, I'd prefer red and yellow or something...
Next one is perhaps the dullest, Seattle Sounders, nothing special about it is there...
San Diego Sockers, Ref 555, is the other team sitting in my Jokari box set. Thanks v much to Les Commons for selling this to me a few years back...
The next one, Toronto Blizzard, is unusual in that it's the only handpainted team in this range I'm aware of.
Has anyone got a machine painted one.
Mine comes in a genuine box and was bought from a trusted source, so I think its OK. But why did they handpaint this one I wonder...
Next one, Minnesota Kicks, ref 557, is another that doesn't look much like the catalogue picture.
Next is 558 Tulsa Roughnecks, is another where the colours in the catalogue are a bit out...
The final one in my collection is Ref 559 Jacksonville Tea Men, which also covers Italian outfit Lecce.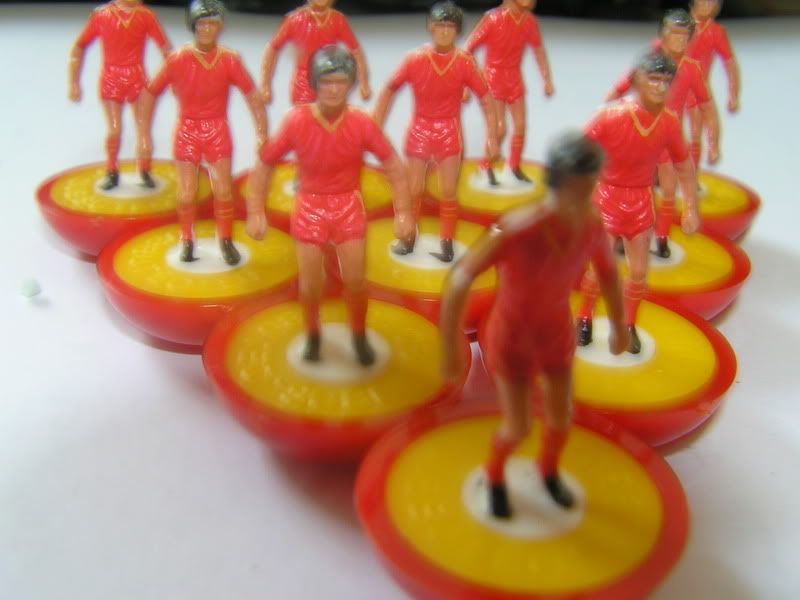 The final team in the series is Ref 560, LA Aztecs, missing from my collection, but if you can hlp plug the gap, get in touch.
My final offering in this photo essay is the Jokaro Box set I've referred to already.
If you own any of the 5 missing teams, why not take a picture and post it here...Who knows, there may even be a few box sets lying around in attics with teams like Vancouver and Portland sitting in them.